BSN Syntha 6 Isolate – Ultra-Premium Protein Power
With a range of high quality, great tasting products that work, it's no wonder BSN (Body Scien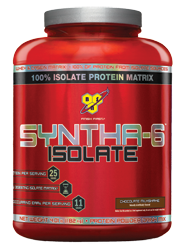 ce Nutrition) has become one of the most trusted brands today. Do you want to look lean and ripped? Do you want unprecedented muscle growth? Then BSN's Syntha-6 Isolate is the protein supplement you're looking for.
Based on the popular and original Syntha-6, Syntha-6 Isolate comes with a completely new matrix of proteins for sustained release of amino acids but with 75% less fat and 50% less carbohydrates.
BSN Syntha-6 Isolate's formulation contains: Isolast – A unique formulation of 50% slow absorbing milk protein isolate and 50% fast absorbing whey protein isolate for prolonged and continuous amino acid influx and supply.
Less fat, less carbohydrates and less calories to help you achieve better muscle definition and body composition. A strong mix of essential and branched chain amino acids to kick start muscle protein synthesis and an improved anabolic profile. Added fiber for improved absorption profiles and promotion of gut health.
If you want better recovery, better muscle protein synthesis and better muscular adaptations but with improved body composition in mind then it's time to make a change. No one likes coming second.
Be the best you can be and be the leader of the pack with BSN Syntha-6 Isolate.