Here is how to make a delicious banana bread, but its not just a banana bread. Its a Banana Oatmeal Bread filled with the best vegan protein has to offer. Its your perfect breakfast recipe if you want to keep healthy and feel energetic throughout the day.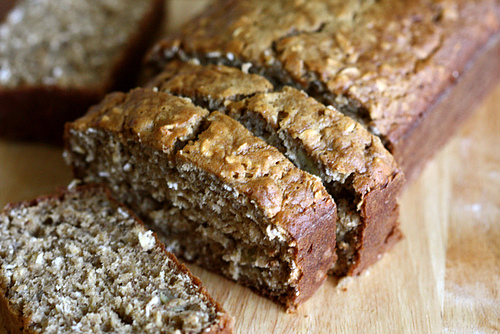 1 1⁄2 cups flour
2⁄3 cup sugar
1 1⁄2 teaspoons baking powder
1⁄4 teaspoon baking soda
1⁄4 teaspoon salt
3⁄4 cup oats
1 cup mashed banana
1⁄3 cup buttermilk (recipe says low-fat, but I used regular dry buttermilk)
1⁄4 cup vegetable oil
1 teaspoon vanilla (I used more)
2 eggs, beaten
cooking spray
Preheat oven to 177°C / 350°F and spray a 8 x 4 inch loaf pan with cooking spray.
Combine and mix dry ingredients all together in a large bowl.
Combine vegetable oil, banana, vanilla, buttermilk, and eggs in a measuring cup or a small bowl.
Pour wet/liquid ingredients into the mixed dry ingredients and stir slowly only until the dry ingredients are moistened.
Spoon the mixed batter into the prepared loaf pan and bake in the oven for 55 minutes, or until a toothpick or fork inserted in the centre comes out clean and dry.
Put on a wire rack and cool the bread down, still in the loaf pan, for about 15 minutes. You can leave it longer if you want to.
Once its cool,  take the bread out from the loaf pan. Enjoy the healthy loaf of bread full of healthy vegan protein!